Virtual WiFi was updated to version 2.9.5
---
Thanks to the contributors Virtual WiFi in now version 2.9.5!
The program is now supporting the following languages: Polish and Vietnamese. Besides those languages, the update center has been changed, so now corresponds to this website, which contain the official page of this program, and other programs and tools.
You can change the language of the program by accessing the Settings tab and selecting the available and desired language. The change will be instant, no restart of the program is required.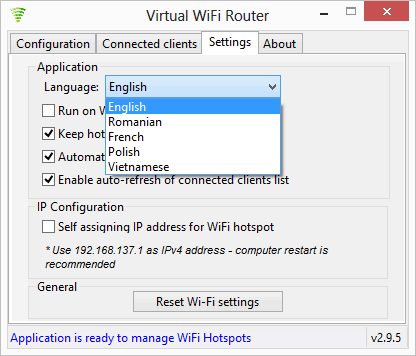 For those who uses Virtual WiFi 2.9.2 or a previous version, the update message will not appear, because of the changes in the update module, which might not be compatible to some old versions, therefore the update in those cases should be done by manual reinstalling.
Update: a newer version (3.1.9) has been released.