Virtual WiFi was updated to version 3.1.9
---
Virtual WiFi 3.1.9 was released!
The improvements includes:
Capability to minimize to System Tray
Capability to generate a strong password for the hotspots activated with the program
Dispay the name of the connected devices (computers, smartphones, tablets and others), not just the IP and MAC addresses
More simplified and easy to use graphical interface
Faster detection time for the connected devices and better performance in general
Unfortunately, general compatibility with Windows XP was removed due to the fact that some functionalities would require particularly implementation for this OS. Additionally, the WLAN driver for this version of Windows cannot be found on the official pages or downloaded as an update.
Next version of Virtual WiFi (Router) is going to bring new features such as: history log of the connected clients, possibility to set the default gateway of the IP used to create hotspots, option to prevent the computer going into standby or shutdown while a hotspot is activated, possibility to set the refresh rates of the program accordingly with your system hardware capabilities, possibility to automatically stop an activated hotspot if there is no device connected for a specified time period, and possibly others.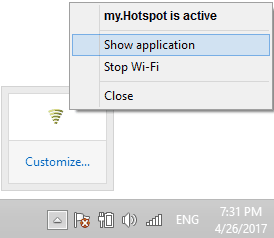 Virtual WiFi System Tray's icon and options panel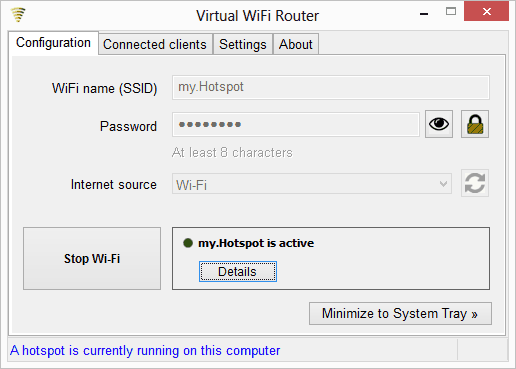 Virtual WiFi new design for main tab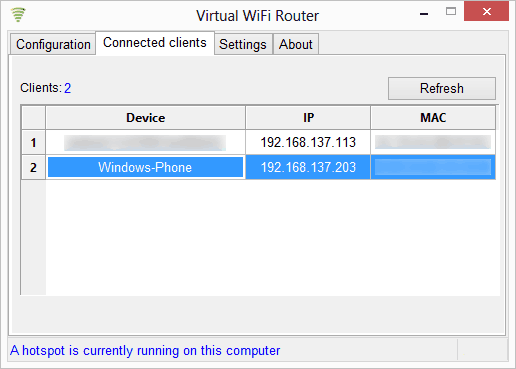 Virtual WiFi now displays the name of the connected devices
Download Virtual WiFi (Router) v3.1.9